Why should I sync my NetSuite with Resolve?
Syncing NetSuite with Resolve saves you time by eliminating the need to add invoices and customers manually. It also provides Resolve with as much information as possible to help you and your customers get the most out of net terms automation.
How do I sync my NetSuite with Resolve?
You can access our Integrations page in two ways. You can go to the sync menu at the top right of your merchant dashboard and click "Go to Integrations Settings".

Alternatively, you can go to the Settings page and click the Integrations tab.
From there, you can click the "Connect" button on the "NetSuite" tile. You will then be redirected to a new tab where you can finish connecting to your NetSuite. Please make sure you have an Administrator role with your NetSuite account to install the NetSuite integration bundle and enable SuiteCloud features.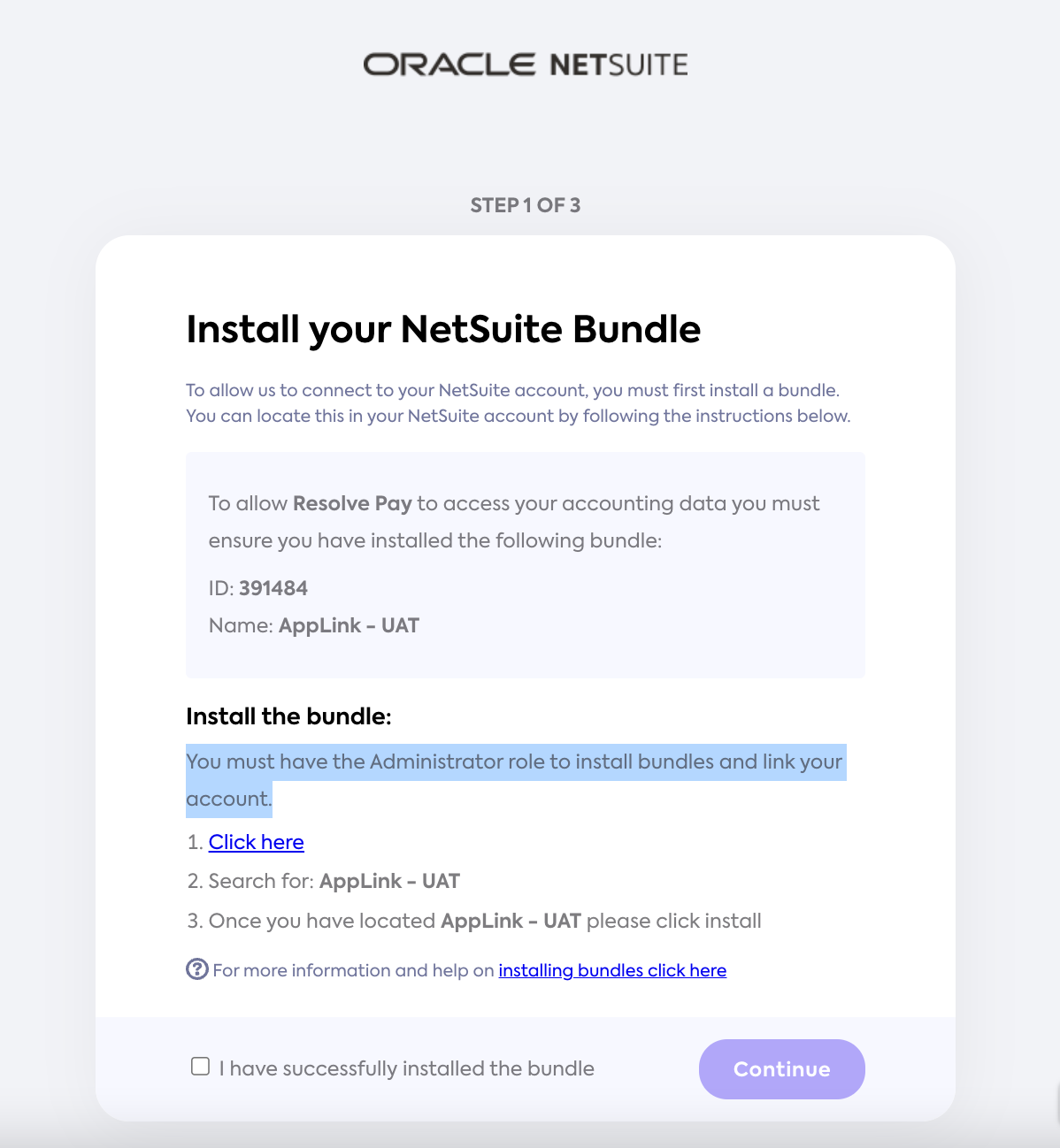 After you are redirected to log into your NetSuite account, click the green "Allow access" button in the bottom center to initiate the sync.
What data gets synced when I use the NetSuite sync?
Resolve acquires the following data from your NetSuite:
Customers

Invoices

Sales orders
Chart of accounts
We sync this data in order to provide you with the best workflow automation experience.
NOTE: Changes you make to your data in Resolve will not be reflected in your NetSuite.
I synced my NetSuite and now some of my customers are duplicated in Resolve. What should I do?
Please reach out to us at accounts@resolvepay.com and ask us to help you with your duplicated customers issue.
What happens if I change something in Resolve while the sync is running?
If you make changes in Resolve while the sync is running, your changes may be overwritten. We recommend waiting until the sync completes before making changes in Resolve.
What happens to my customers that are organized as sub-customers in NetSuite?
Your sub-customers are pulled into Resolve and will be immediately archived. Invoices associated with that sub-customer in NetSuite will be associated with their parent customer in Resolve.
How often are records synced?
You can start a record sync at any time by clicking "Initiate Sync" in the sync menu. If you would like to enable a daily automatic sync, please reach out to us at accounts@resolvepay.com.
Can I change synced records in Resolve?
Yes, you can change a synced record in Resolve, however, this record might be overwritten on the next sync. We recommend changing synced records in NetSuite. Note that once you finance an invoice, future syncs don't apply changes to that invoice.
What happens to my inactive customers in NetSuite?
Inactive customers are synced into archived Resolve customer records. If you mark an inactive customer as active in NetSuite, the archived customer will not be automatically unarchived. You will need to unarchive the customer in Resolve yourself. If you mark an active customer as inactive in NetSuite, it will be archived in Resolve the next time the sync runs.