How do I extend terms for a non-advanced invoice?
Resolve allows you to extend terms on non-advanced invoices after they are sent via your Resolve dashboard. To do so:
Find the non-advanced invoice you want to extend terms for within your Invoices page.
Click the ••• icon to the right of the invoice. From the resulting menu, select Extend terms.
Select the new extended terms.
Select a reason for the terms extension.
You may optionally write a custom note for your customer that will be included in the updated invoice email.
Click Extend terms.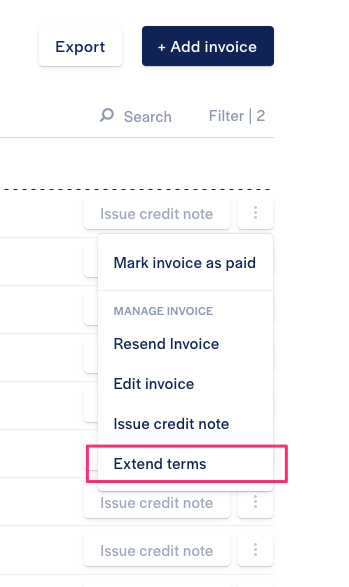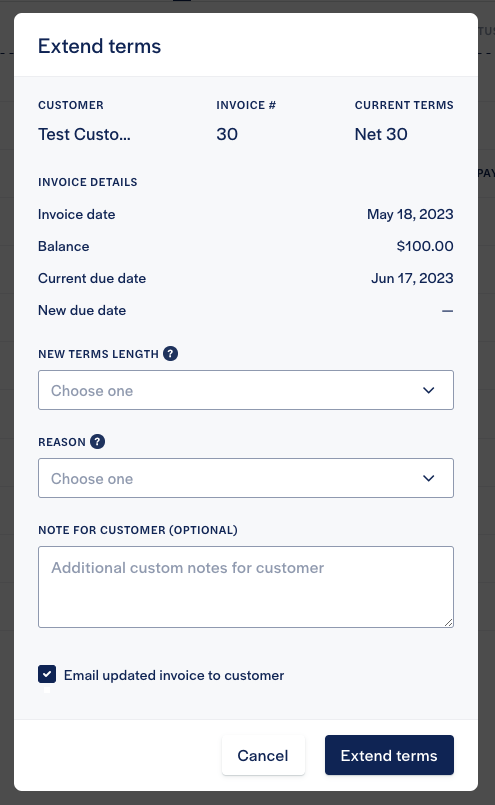 Please note the following:
You may only extend, and not shrink, your invoice's term length.
You may only extend terms lengths to eligible terms that have been enabled for your account. If you would like to inquire about other term lengths that are available for non-advanced invoices, please reach out to your Customer Success Manager or email accounts@resolvepay.com.
Currently, you may only extend terms on non-advanced invoices without unpaid late fees. Learn how to waive late fees on non-advanced invoices at this help article.
To extend terms for advanced invoices, email your request to accounts@resolvepay.com.