What does it mean to enroll a customer?

Once you have submitted a customer for credit checking and a credit decision is made, if they are approved for "Advance Pay", they will stay in the "Pending enrollment" section until you initiate enrollment.
To initiate enrollment, you can choose one of the two enrollment methods:
Send an enrollment invoice

Navigate to your "Customers" page in your Resolve dashboard and select the "Pending enrollment" section in the customers table.

Then click on the "Send enrollment invoice" button. This will pop open the "Add invoice" page where you can fill out the invoice details, review and send it.





Send an enrollment link

On the same section as above, click the ••• to the right of the "Send enrollment invoice" button.


Then click "Copy enrollment link" - the link is now copied which you can then paste into an email and forward to your customer.


Once the customer completes these steps, you can start sending invoices with net terms and are able to receive advances on their invoices.

What happens after you send an enrollment invoice?
Once you have sent your customer the enrollment invoice, their status is updated to "Pending customer action" and a reminder email is automatically sent after 2 days of inaction.



Additionally, the! icon appears after 3 days, for you to keep track of customers who haven't completed the enrollment steps.


To encourage your customer to complete the enrollment process, you can either copy and send the enrollment link or click the "Resend invoice" button and send a reminder at any time. Please note that this will not change or impact the automatic reminder emails.


How do buyers complete their enrollment?
Your buyer will use the enrollment invoice or the link that you sent them to complete enrollment.
This includes a one-time 3-step process (takes ~2 minutes to complete) where they:
Confirm/update their accounts payable information
Update their payment remittance details
Review and accept the Net Terms Agreement
Upon completing these steps, the buyer's status in your dashboard updates to "Enrolled"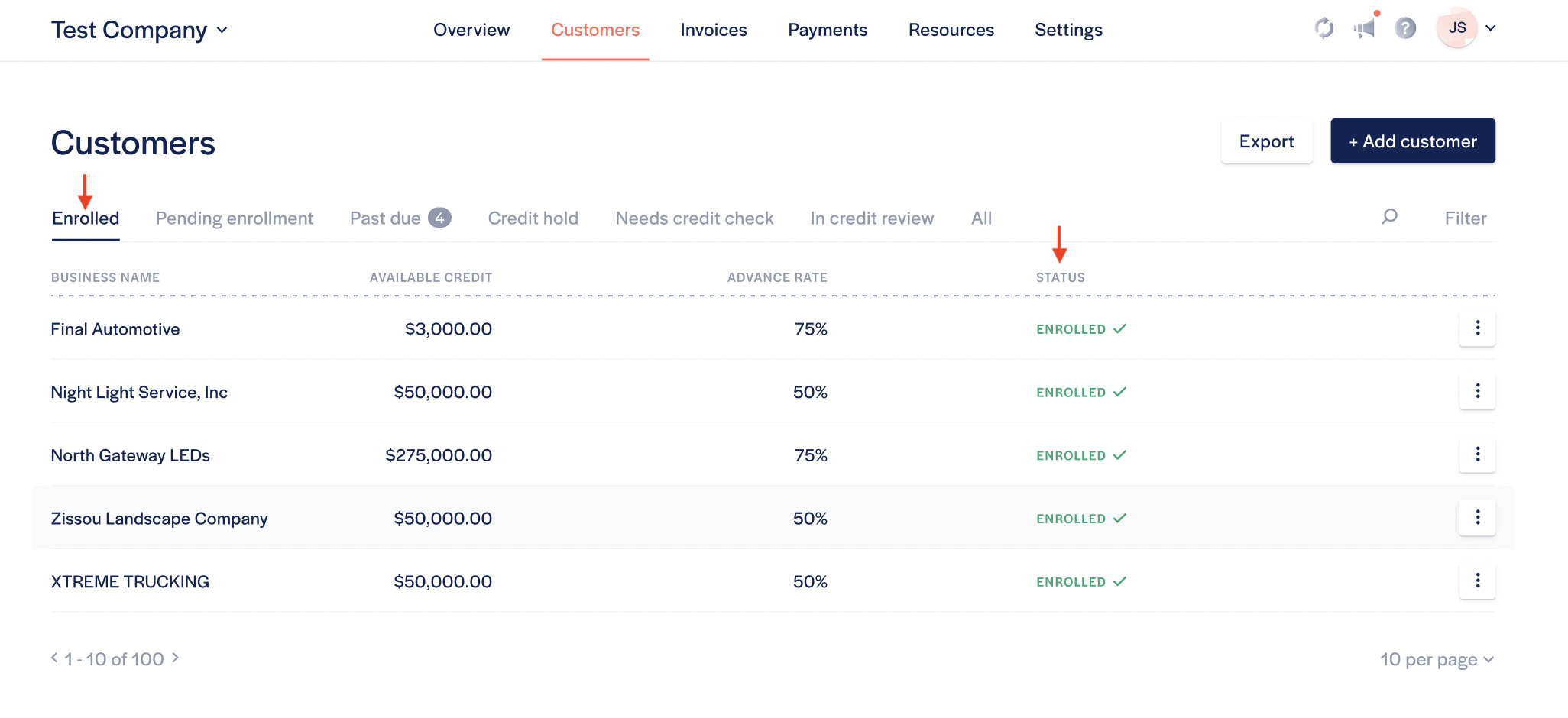 What happens after enrollment is completed by the customer?
Once complete, the customer's status will in your Resolve dashboard will update to Enrolled and any invoices sent will be immediately confirmed.
Your customer will also have the option to create an account if they want to view their payment history, save payment methods, and manage their account with you via your online portal.
How is this experience branded?
The experience is merchant-branded and "powered by Resolve." Your customers continue to receive invoices payable to you and can even send checks payable to you via the Resolve lockbox if they choose to pay by check.