How do I request a terms extension on an advance pay invoice?
You can now submit a request to extend terms on advance pay invoices by using the "Request terms extension" option found in the kebab menu on the Invoices page, or the Actions drop-down menu on the Invoice details page.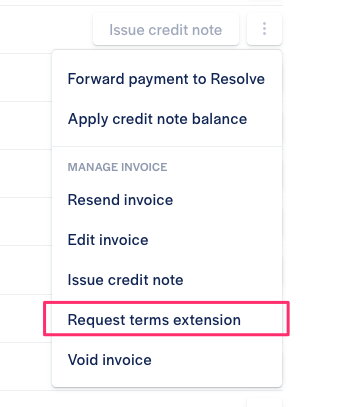 After you select "Request terms extension", you can select the requested new terms length and a reason code from the drop down menus in the form. You can also select whether or not you would like an updated invoice to be emailed to the customer. The extension fee will automatically be calculated and updated based on the percentage difference in your net terms fee agreement.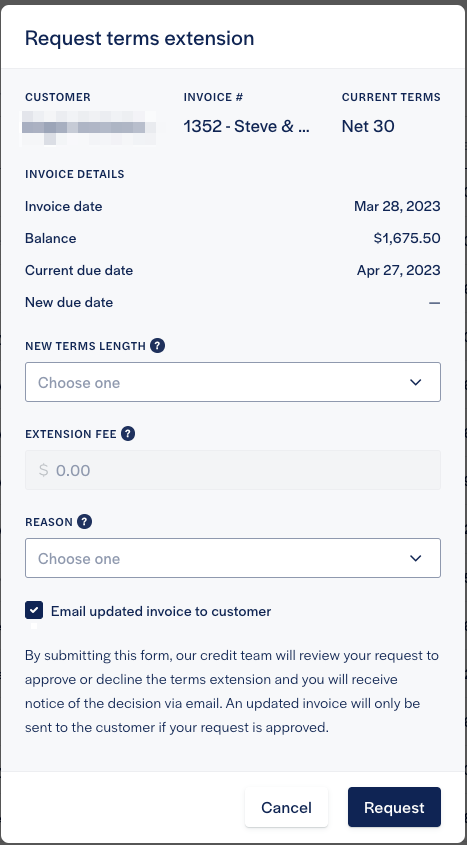 Once confirmed, our operations team will be automatically notified and will review your customer's account within 4 hours. You will receive notice of the extension decision via email.
Please note the following:
You may only extend, and not shrink, your invoice's term length.
You may only extend terms lengths to eligible terms that have been enabled for your account. If you would like to inquire about other term lengths that are available for non-advanced invoices, please reach out to your Customer Success Manager or email accounts@resolvepay.com.